about
Troop 54 Contacts SCOUTMASTER - scoutmaster@troop54bsa.com
For information about joining Boy Scouts and Troop programs COMMITTEE CHAIR - committeechair@troop54bsa.com
For information about joining Boy Scouts and Troop business WEBMASTER - webmaster@troop54bsa.com
For questions or comments regarding the content of this Web Site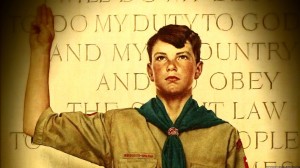 A Word about Electronic Devices Electronic devices (Cell Phones, Video Games, DVD Players, IPods, CD or Tape Players) should not be brought on campouts.  They will be confiscated and returned at the following troop meeting.Instead bring your scout handbook so that you can work on requirements and rank advancement.  Or if you have a counselor, you can work on your merit badges.  Remember campouts offer the best opportunity to work on your requirements, but your requirements cannot be signed off without your book.
Troop Meetings A Reminder - Our Troop Meetings begin at 7:30 pm and end at 9:00 pm.  They are held every Tuesday except the first one of the month. If a meeting is cancelled due to weather, it will be posted on the Troop Web Site. Please try to be prompt.  Don't forget that it is Troop Policy that full "Class A" uniforms be worn to the Troop Meetings.  If a scout is involved in another activity (i.e. football, soccer or baseball)  prior to our Troop Meeting, he can always keep his scout shirt and pants in the car and get changed as soon as he gets to the meeting.  What would his coach say if he turned up to his other activity in his Scout uniform?  A Full Class A Uniform consists of a scout shirt with all the correct patches and a Neckerchief or Bolo, boy scout pants, socks and belt.
Fundraisers Troop 54 has a rather unusual policy.  We do not charge any dues for membership.  All the money we collect in December for registration goes to the National Headquarters and the Patriots' Path Council for administration and insurance.  Also, the donation that is made to the Friends of Scouting is for the Patriots' Path Council operating expenses including the camps and services they provide.Troop 54 also has operating expenses.  We pay for camporees, cabins, and camping fees.  We purchase merit badges and rank awards.  We run Eagle Courts of Honor (Troop 54 may have up to 10 Eagle Scouts this Scout Year). We help defray the cost of the June campout and summer camp when possible.  We need to replace or fix worn equipment; we need to keep our propane tanks filled.  The list goes on and on.This past spring the Troop purchased a larger trailer which was needed for monthly camping trips and Summer Camp. This out of the ordinary expense has reduced our treasury to such an extent that the Committee has been forced to reduce and in some cases eliminate subsidizing of the aforementioned expenses.  In other words all Scouts partaking in a camping trip have to pay all or a portion of the expenses the Troop treasury would normally subsidize.

The only way that we can cover the cost of our operating expenses are by running several fundraisers each year.  Obviously, the more money we can raise, the better a program we can provide.  We strongly urge every family to participate in our fundraisers.  One incentive to participate in our fundraising activities is the Scout Account.  Each Scout that participates gets a percentage of money put into his scout account based on the profits he earned for the troop.  The money that accumulates in the scout's account can be used to help pay for camping trips, summer camp or even camping gear. Additionally, since all money in the Troop's treasury goes to supporting the Troop, the Troop's portion of the fundraisers will also reduce the $ coming out of your pockets to support your son's Scout activities

This year we had planned only one fundraiser; the Popcorn Sale in September.  Unfortunately our popcorn sale was almost a complete failure. With only 12 families selling, the Troop made $280.00 after deducting for the Scout Accounts. This amount will barely cover costs for purchasing merit badges and rank awards with a little left over for Eagle Courts of Honor.

The Troop Committee decided that we would have a Candy Sale in December to try to raise some more money. We will be ordering the $1.00 (selling price) candy bars from Gertrude Hawk. These are the same candy bars we sold last year. Instead of ordering the combo boxes, we will be ordering separate flavors and combining them ourselves. The Committee decided that each family is required to sell 2 boxes (96 candy bars) of candy at a minimum, or donate $50.00 to the troop. Hopefully if everyone participates and exceeds their goal, this will be enough to finance the troop. Remember, 25% of each scout's sales will go toward their Scout Account.

The alternative is, for the first time in our existence, to charge each scout "Troop Membership" dues.

This candy sells itself. There will be more discussion of sales options at the December Committee meeting. The candy will be distributed at the December 11th Troop Meeting.
Roundtable Meetings Troop 54 is part of the Black River District of the Patriots' Path Council of the Boy Scouts of America.  On the first Tuesday of each Month the adult leaders of Troop 54 meet with leaders from others troops within the Black River District.  We learn about District and Council-wide activities and discuss successful ways to present the Scouting program.  We are fortunate that the meetings are held at the Redeemer Lutheran Church on Hillside Avenue right in Succasunna.  Why not join us at the next Roundtable? I think you will find it well worth your time.
Uniform Exchange The Uniform Exchange is available to all youth and adult members of Troop 54.  "Experienced" uniform shirts, shorts, trousers, Troop 54 T-Shirts, and other items are collected from members as they outgrow them or are purchased at low cost and then added to the exchange.  When a scout takes an item from the exchange, he may turn another one in, or if he does not have anything to turn in, he is asked to make a cash donation.  There is no minimum or maximum donation amount. For details and contact information, check the Troop Area.
Behind the Scenes
(A message from the Troop Committee)The purpose of the Troop Committee is to assist Troop 54 in it's planning and execution of the Scouting program.  Members of the committee serve in various capacities such as Treasurer, Secretary, Advancement, Fund Raising, Camping and Membership.  The Scouts of Troop 54 may not know the committee members as well as they know their uniformed leaders, but the job of the Committee is no less important.The Committee is always looking for parents to become registered leaders and help out as Assistant Scoutmasters by helping the scouts work on their rank advancements and outdoor skills.  No experience is required and formal training is available to interested parents.  A desire to spend time helping  your son and his friends at Troop meetings and on weekend camping trips is all that is necessary.If working directly with the Scouts is not your first choice, please consider a position on the Troop Committee.  We currently are looking for a Secretary  and an Adult Training Coordinator.  All that is required is to attend a monthly Committee meeting and the desire to help your son, the Troop and support a great organization.  Please volunteer!The Troop Committee meets on the first Monday of each month at 8:00 pm in the United Methodist Church.  You may call Denise Vitiello (Committee Chairman) for more information.
Advancement The Scouting program provides many opportunities for you to learn skills and take part in terrific adventures.  It also recognizes your achievements by awarding badges of rank.   In order to encourage advancement, all scouts working on their Tenderfoot, Second Class, and First Class ranks are required to bring their Scout Handbooks to every troop meeting and campout.  Without your book, you can't be signed off when you complete a requirement.  Parents, please see that your son has a Boy Scout Handbook and brings it to the troop meetings and packs it when he goes camping.  Any registered Adult Scout Leaders can signoff on requirementsSteps Required for Rank Advancement1.   Review all the requirements needed for rank advancement.  Make sure that all the requirements have been signed off in your Scout Handbook.

2.   For ranks up to First Class, be sure that you understand the meaning as well as be able to recite the Scout Oath, Law, Motto, Slogan and Outdoor Code, in addition to knowing all the requirements required for the rank.

3.   For ranks above First Class, be sure that you have completed the total number of required merit badges (eagle and non-eagle) needed for the rank advancement.  Also make sure that your time in rank, service hours and position of responsibility have been completed.  Remember that you are expected to be able to answer questions referring to requirements for lower ranks as well.  You should be building on your Scouting skills, not forgetting what you have already learned.

4.   Schedule a Scoutmaster's Conference to assure that you have completed all of your requirements.  Be prepared to ask any questions about requirements that you are not sure of, or have forgotten.  Bring your Scout Handbook to show that all requirements have been signed off.  For ranks above First Class, bring your "blue cards" to verify completion of merit badges in case the troop's records were not updated.  Be sure that the Scoutmaster signs your book, verifying that you have satisfactorily completed the conference.

5.   Call Mr. Fischlein, Advancement Chairman after successfully completing all of the above steps.  Call at least a week in advance to schedule your review.  Boards of Review will normally be scheduled for the second Tuesday of each month.  You can only have one Board of Review a night.  Do not wait until the week of the Court of Honor to schedule a Board of Review, it may be too late, especially if a requirement has not been completed.  These instructions should be taped into the back of your Scout Handbook so that they don't get lost.

6.   For your Board of Review, remember to show up in full class A uniform and have your Scout Handbook, otherwise you will not have a Board of Review.

7.   If you don't pass your Board of Review on your first try, don't be discouraged.  Review the requirements that you were not sure of or forgot.  All of the answers to the requirements can be found in the Scout Handbook.  If after reading the Scout Handbook you still do not understand the requirements, then see an Adult Leader or Troop Guide for further clarification.  Once you have reviewed and understand all the requirements, schedule another Board of Review.
Eagle Scout Trail to Eagle The Patriots' Path Council has compiled a thorough list of the steps involved in completing your Eagle Scout Rank. All Life Scouts should reference this information on the Patriots Path Web site, "The Trail to Eagle Packet", which is available here.